I have a lot of frames...a lot of different color frames.
Silver, gold, red, black, brown...you name it.
I've been meaning to spray paint a few to make a photo wall.
Today, I made a mini-photo wall in my dining room.
I chose these 3 frames that came from a dollar store a few years ago...
I knew I wanted to some black and white headshots of the kids.
I just printed them on our computer, using just regular copy paper.
You can't even tell behind the frame glass!
VOILA!
Oh--and not's that the only thing that got some ORB today!
Have a great week!!!
Linking up to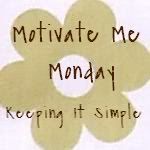 And
Before & After Party at