I love this bowl
$6
This blue mirror was $6.
Not sure if I'll keep it blue, or paint it.
(It's not quite as turquoise as it looks here in the picture.)
'Thee and Me' sign
I liked the shape of it.
I'm sure I'll paint it.
Maybe with a scripture?
$2
(so glad those
floors
are gone!!)
As a previous SLAH consultant, I feel the need to rescue things when I see SLAH items in a thrift store. Whether I need them or not, I feel it's my duty to save them, and give them a home where they are appreciated!
Rescued SLAH sconce
$4.98!
Resuced SLAH Gail Pittman salad plates
Are you ready for this?
I about died when I turned these over.
59 cents each.
Blasphemy!
Linking to: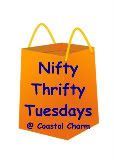 Coastal Charm