Not. I wish I was heading for the border. Momma needs a vacay.
Instead...I'm heading for this border-
(I'll explain the bedding and window treatments in other posts.
Just know that the olive green treatments went with another bedding set.)
Dear 1988,
REALLY? Seriously? Did you have to showcase the wallpaper border? Who puts a chair rail 5 inches from the ceiling? (probably a man) I can only imagine the decor in this room back then. Ugh.
signed,
no love from me
First, let me give a little background on the master bedroom. Oh wait. There is none. It hasn't been touched. I am finally starting this master bedroom journey, and I hope you will go along for the ride. I'll be asking for a lot of advice down the road, so be prepared. ok? ok.
For five years I have gone to sleep at night looking at this molding. I want to rip it down. Hubby is scared of how much it might damage the walls.
Ok. I gotta work with it.
I bought some border (so weird) at Lowe's. I kept checking around me to make sure no one was watching. I can hear the whispers now...'omg that girl just picked up a roll of border? That is so 1988.' (yes I have a weird imagination)
Anyway...
My idea is to paint it white. Maybe it will look like molding and not border?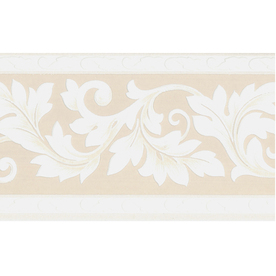 Yes? No? Thoughts? Comments? Suggestions?